Between looking at the weather forecast and not getting out fishing in about a week, I took the afternoon off work for some fishing. I hit my favorite sub-division lake in Loudoun County while my wife finished out her day. And good thing the student volunteer showed up about 30 minutes late, as it gave me an extra hour on the water
The water was stained, with about 2-2.5' of visibility and it was completely cloudy with a light wind. I knew if it stayed like this it could be a good day. I knew I needed larger profile lures that I could work shallow with the cloud cover. So I put on a chartuese Mann's Minus 1 and Zoom Horney Toad on my two baitcasters and a 6" green and red XPS lizard on the medium-heavy spinning rod. I launched a few minutes after 1 and headed over to the island where I've caught some largemouth. I got close and threw a cast parrellel to the bank towards a little shoreline cut and shallow tree. A bass nailed the crankbait and I got this 15" largemouth in the kayak.
A couple of casts later, I threw the toad over into the cut farther and had a bass swing and miss on the toad. I immediately threw the lizard to the spot and saw the line swimming off. I set the hook and landed a 13" largemouth. I thought to myself that it could be a real good day if the clouds stayed. About 15 minutes later however, the sun came out and the fishing slowed
I did manage 8 more bass fishing till about 6:30. I caught 5 more on the crank, all about 7-12". All were caught running the crank parrallel to the shore near shade caused by steep banks or overhanging brush/trees. I caught 3 more on the green and red lizard concentrating in the shade RIGHT next to shoreline cattails and overhanging brush. They were all about the size of this guy and smaller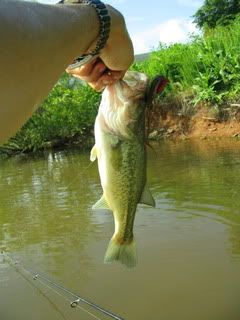 I did lose a couple of bass about 14-15" on the Mann's crank and red/black willow leaf spinnerbait. But it was a good day with some bass caught, which beat sitting in the office looking at aerial photogaphs. This lake will be great this summer, as there is now ALOT of overhanging brush/grass/cattails along some of the shores. I'm heading out tomorrow after working at home for some more bass fishing at a WV lake.