Have you ever been apart of something that just made you feel good inside? Well that happened to me this weekend. Last spring I went to my first kayak get together. We had tournaments,food,fellowship,and games. Well one of the games was a casting contest. I though.."cool, I'll entry this casting contest and use one of my heavy action 7-10" bass rods and beat everyone hands down". WRONG...... They bring out this little PINK BARBIE DOLL ROD for us to use. :hmmm: Well I'm pretty secure with my manly-hood but I wasn't to sure about this..
After the first guy had established a distance it was on though. The contestants threw their pride to the side and went for it all. Watching some of the forum of these guys was like watching a Olympic javelin participant.
http://texasfishingforum.com/forums/ubb ... /6077685/1
Well at the end there could be only one winner.
Yup, Yes sir......Yes siry...!!

Well after hanging proudly on my man cave wall for almost a year I decided to take it with me to the Dallas boat show this weekend.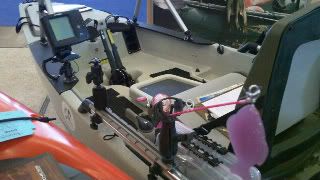 Yesterday a couple men came by to look at my kayak. While they were looking at the kayak their daughter/granddaughter that came to the boat show with them was eye balling something else. I smiled and laughed as she had a ball casting the rod in the booth. I knew it was meant to be.
I had the pleasure of passing the torch to such a worthy beautiful young lady.
I smiled and laughed as as she left the booth with her dad and grand dad thinking I hope she grows up to be a great fisherwomen some day.
Well someday came about a hour or so later.......
I'm talking with a customer about my kayak and look up to see the young lady standing at the front of my kayak with a trophy sitting on the top of my kayak. :woot:
See, her dad had taken her to the catfish tank at the show and she caught a huge catfish. For doing that they gave her a awesome trophy. Two thumbs up for the guys at the catfish tank for doing this. And three thumbs up for dad and grandad for doing such a great job. I bowed my head and asked for me to be able to make a "little" difference in someones life yesterday. I was blessed...........
Guys I haven't had this feeling in some time. PLEASE take a kid fishing this year.
Please pass the torch!!!!!!