With sun & air temps right at 60-62 degrees yesterday, I couldn't stay off the river. So I got 5 hours in yesterday morning & headed to the Potomac. I hit an area that was pointed out by someone on the Riversmallies site that works well for him during the winter.
I got started about 1:15 with light wind gusts & water temps right at 45 degrees. Water was clear with a slight greenish tint, could see down 6-7'. I started off rotating between a green/purple fleck Little Tube, Chartuese Shad Pointer 78, Winco Chillee Willee, & single colorado blade spinnerbait. I stopped to fish a few eddies but the current still seemed too strong for this time of year.
Then I got up to the type of area that produced for the day. It was a significant eddy area surrounded by ledge rock of significant size. Water around the ledge rock were about 2-4' & then dropped down to 8-10' in the deepest areas of the trench/hole. First smallie of the day came in the shallower "ledge" on the Little Tube. I made the cast and trying to do the SLOW drag and pause. I actually set the rod down for a minute while I got my bag of Predator Craws out. Picked the rod back up, felt some weight, & set the hook. After a short fight, this 17.5 smallmouth was in the kayak.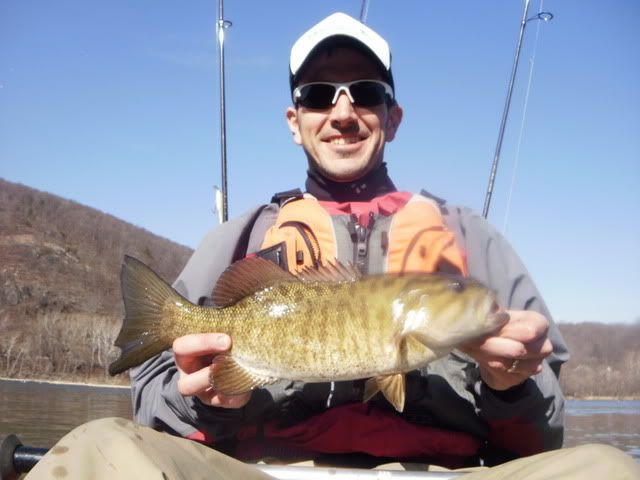 Then a little later I was working a simiar area nearby. The ledge rocks came up to just below the surface & dropped off to 7' quickly. I threw the Little Tube up to the "top" so that it could fall down the ledge face. Felt the tap & set the hook. The rod bent over & the fight was on. After a few drag pulls & head shakes on top of the water, this CHUNK of an 18.5" smallie was in the kayak.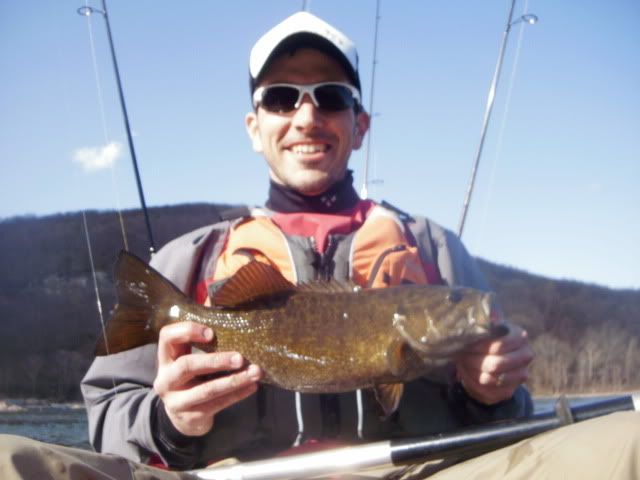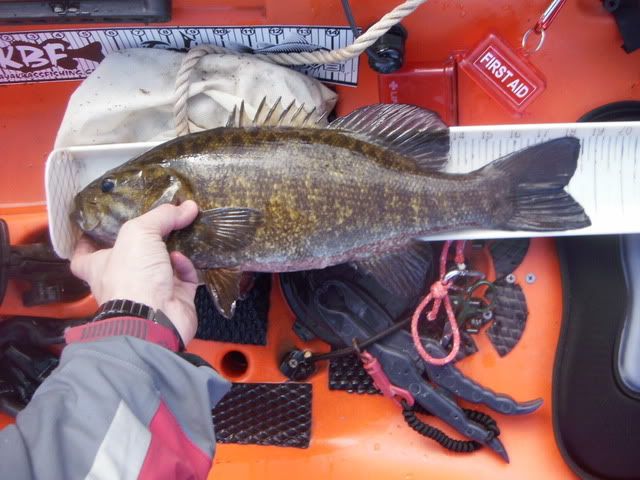 I worked a few more areas until I left with no luck. It was definately my best winter fishing day, in terms of quality & finding the fish. Both fish were footballs that put up great fights. I'll definately be back there when I have some more time. Put about 3 hours on the water in this trip yesterday.
Here's a short video of the release for both fish.