Hi gang. I'm new here and thought I would post about my first time kayak fishing and do an intro all at the same time.
My name is Jameson and I'm absolutely new to paddling of any kind. I've been an avid bass fisherman most of my life, but kind of stopped fishing a few years ago. No reason really other than life has just been super busy with church, family and other hobbies I guess.
About a month ago my wife and I decided we wanted a hobby we could do together and we decided to get either kayaks or a canoe. My wife really wanted her own kayak so we decided that would be the way to go. I did some research (I'm a research/reviews freak when making big purchases) and discovered fishing kayaks. A good friend of mine in Wisconsin has a Native Watercraft Ultimate 14.5 Tandem and told me to look into their stuff, as he's very happy with his. Since I plan to fish, waterfowl hunt and bowfish out of mine, this looked like a good option. Sure enough, I checked them out and when it came time to buy, I test drove a 14.5 Solo as well as some other brand kayaks. Ended up getting the Ultimate 14.5 Solo with the angler option for the same price as a standard 14.5 Solo. Quite happy with the purchase. My wife ended up getting just a standard kayak, a 12' Current Designs Kestrel. She's really happy with hers too.
Anyway, I just picked the kayaks up a week ago and we got on the water this past Saturday. For our maiden voyage I picked a small, 59 acre public lake that is surrounded by DNR property (all trees and hills, no houses or anything). Plus this lake has a 18" limit for keeping bass and even then you're only allowed to keep two, so I figured it would have some good fishing. I dusted off my neglected fishing tackle and off we went.
Once on the water, we paddled around a little bit to get used to our new rides. I was quite impressed with how easy the 14.5 paddled. I guess I was expecting something a bit harder to paddle due to the tunnel hull. My wife paddled around a bit more while I anchored and started tossing a spinner bait near some cover. About the third cast, this little guy struck and became my first kayak catch ever...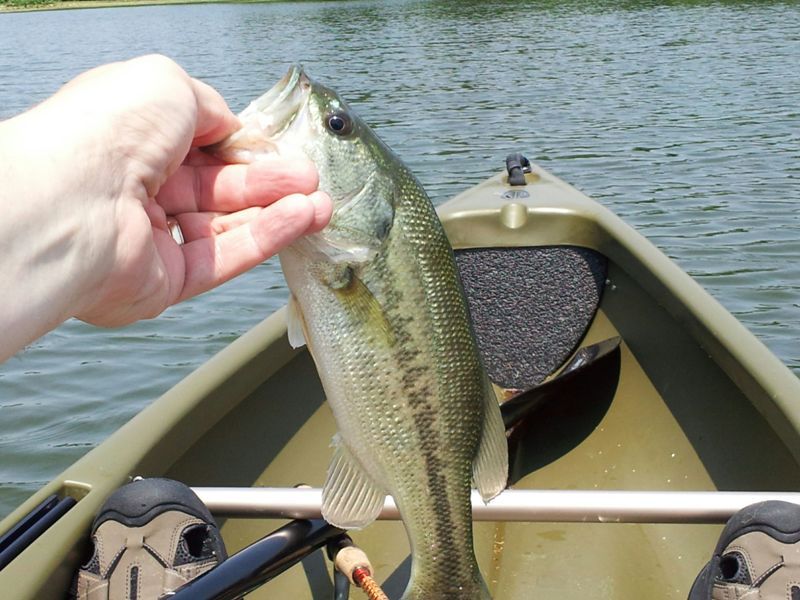 For the next hour, things were slow with no bites. Then, after tying on a Tiny Torpedo, this fella struck. It's been years since I've caught a bass on a topwater lure and WOW was that ever fun! I was even blessed with watching him jump once and that image is burned into my memory for years to come. I've seen bass jump many times over the years, but for some reason this one just stuck with me. Must have been due to not fishing for a few years. Once this fish jumped, something inside me was awakened again...
Then again, things got really slow. By this time my wife had paddled out into the middle of the lake and was just floating, with her feet dangling over the edge of her kayak and into the water. She was having a good time. We paddled to the far end of the lake together and I again tied on a spinnerbait. Sure enough, just a couple of casts near a log produced the last and biggest bass of the day. He's not huge by any means, but a healthy specimen and he fought nicely. So much so that he deserved a goodbye kiss before going back in the water (no, I didn't really kiss him, although I was having so much fun that I could have)...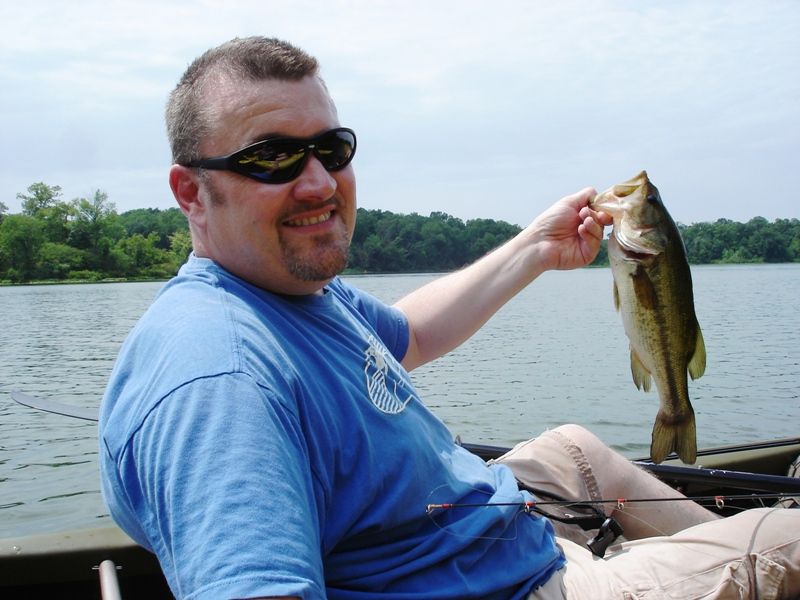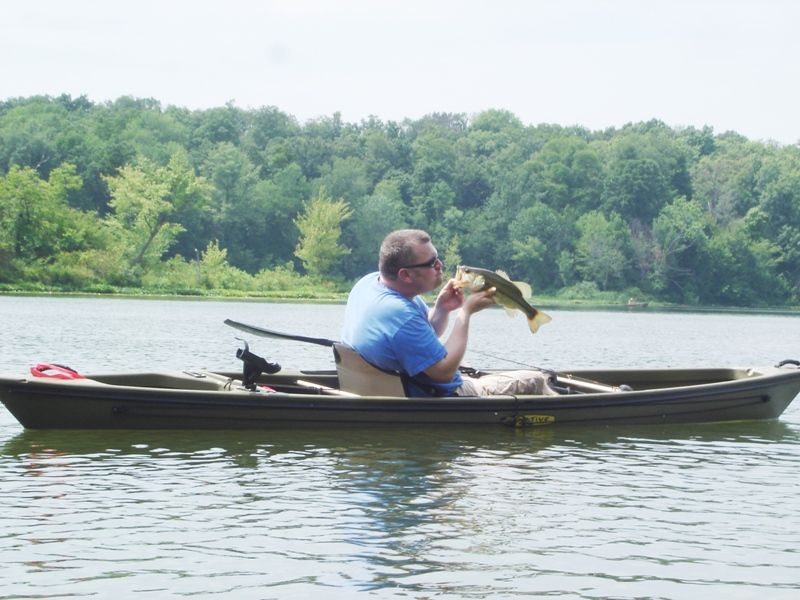 All and all it was a great day paddling, fishing and just spending time on the water with my best friend in all of the world (my wife, not the kayak)...
I've been looking around on these forums and noticed the regional challenges. Are all the challenges basically the same rules and if so, where can I find them? I clicked on the Midwest region challenge, clicked on "view rules" and there wasn't any. So I assume there are some general rules somewhere that I need to read. The challenges look like a LOT of fun!