With it being wednesday, that meant some afternoon fishing. Ended up meeting DT (dan) & Hearndon Catch (brian) below Harpers Ferry for some smallie fishing on the Potomac. Hoping today would be good with the overcast skies & 60 degree air temps, but it didn't turn out quite that way.
We launched about 11:15 & started working/fishing our way up to the last set of big ledges. We were focusing on ledge rock eddy areas and any shoreline eddies we came across. It took probably close to 3 hours to land the first smallie. I caught a 13" smallie on a lucky craft Pointer 78 below a ledge rock. It hit on the start of a quick retrieve. Brian was nearby & had a couple of hits but couldn't hook up.
We decided to float back down & work the area below where we started. Dan had been getting some hits, but no hookups on an erie darter grub, so I put a Winco Chillee Willee paddletail grub on. I landed a 12" smallie on a shoreline edddy above the launch area. The below a big ledge rock area below the 340 bridge, I landed the biggest of the day. This 15.5" smallie that hit the CHillee Willie.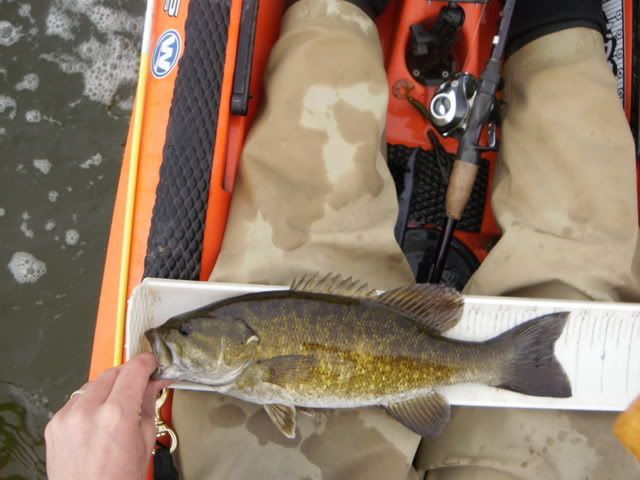 Shortly after this, the thing that will happen to every kayak angler happened. I started to paddle my way back upstream to load up & go home. I decided to use Juan's trick to cross current areas at an angle. I started to cross some fast current, which evidently turned out to be faster than I realized. I hit the fastest & shallowest spot, got turned a little more broadside, & just went over
. I believe I was already leaning towards the upriver side to get speed up. I hit the water, got my feet underneath me, turned the kayak over, & climbed back on.
I managed to get most of the plano boxes except the box with crankbaits & jerkbaits & jigheads. And only 1 of my TFO rods was lost. It was pretty fast to try & drag a lure to find it, as it probably got swept down. Brian was able to get my paddle for me, as he didn't see me flip but saw the paddle floating away as he was in adjacent eddy area. That was Brian's only catch of the day, which was the best in my opinion.
I caught the only smallies of the day. Both Dan & Brian got hits, but nothing in the kayak. Before I go out again, I'll have some type of rod floats on & have the bungee top on.